Brace yourself Marketers because we've got some exciting news that's going to transform the way you use Twitter Ads.
Over the weekend Twitter opened up its Lead Generation Cards to everyone. See how the pros are doing it here.
Twitter is now capturing Lead Generation cards for everyone!
Twitter released the "Lead Generation Card, a new type of Twitter Card that will allow marketers to collect leads directly within the tweet. Users don't even have to fill out a form — their information (Name, email, and username) is already pulled into the card. They literally just have to hit "Submit" on the Card's call-to-action. The Lead Generation Card is exclusively available as a feature of Promoted Tweets (a paid feature of Twitter Ads). For now, Lead Generation Cards are only available for managed clients, but it soon will be available for small- and medium-sized businesses."
Here's what it looks like, courtesy of the Twitter Advertising Blog:
What Are Twitter Lead Generation Cards?
Well, you know when you expand a tweet and you sometimes see some multimedia content sitting below it? That's a Twitter Card. You'll see it on Twitter.com, or in Android and iOS applications.
The Lead Generation Card is a way to use Twitter Cards to generate leads directly within a tweet. (Bear in mind, these occur only within Promoted Tweets.) It's a "great way to generate new contacts because the user's information — name, email address, and Twitter username — are all automatically pulled into the Card.  All users have to do is click 'Submit' on the Twitter Card."
Why is this a HUGE WIN for Marketers?

Well, because it makes generating leads on Twitter easier. Mashable shared some interesting data on how Twitter Lead Generation Cards are performing for some companies. "In a case study quoted on Twitter's blog, outdoor gear and apparel company Rock/Creek saw a 4.6% engagement rate and generated more than 1,700 new email contacts in one week by using a Card within a Promoted Tweet."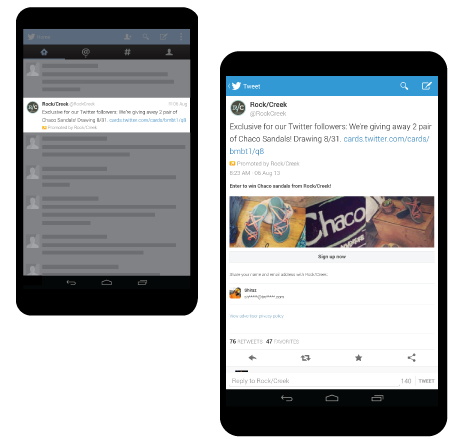 The offer of signing up is winning a free par of sandals just by sharing your email address. You can also apply this this to a whitepaper, template or an ebook. Twitter will also offer "specific analytics that show you leads generated, your spend, and the cost per lead for any campaigns you run with Twitter Lead Generation Cards."
How Do You Set Up Twitter Lead Generation Cards?
Set up a CRM end point integration so you can keep track of your leads generated from Twitter Cards in your CRM. This is the list of CRMs Twitter integrates with — HubSpot is one of them.
Create your Twitter Card by going into the Twitter Advertising Interface. Once logged in, you can find Cards under "Advertising" in the top left corner of your screen.
Once you hit "Create New Card," insert a Card image, a description of your offer, and a call-to-action.
Then, you'll need to submit a few URLs so Twitter knows where to send users that engage with your Cards.
And that's it! Now go get started on some Twitter Lead Generation!
Source: